Sunday, August 13th, 2023 at 1:00pm
Registration at 12:30pm
Director: Brent Magladry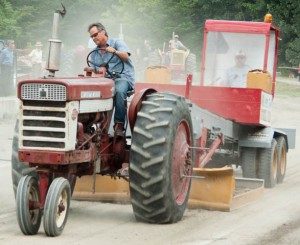 Committee: Hank Bakker, Glen Edwards,  Jon Lowe, Darcy Newman, Kevin Lawlor, Lee Watson, Mark Ash, Brad Findlay, Mario St Denis,  Chris McWilliams, Shawn Edwards,
Brent Magladry
Antique Farm Stock Pull

$10 Entry Fee per hitch                                                                                                                         

Show Features
Steel Wheel Tractor Class
8 Antique Classes: 3000 lbs & under, 4000 lbs & under, 5000 lbs & under, 6000 lbs & under, 7000 lbs &
under, 8000 lbs & under, 9000 lbs & under, 10000 lbs & under.
Farm Stock Classes: 7200 lbs & under, 8200 lbs & under, 9200 lbs & under, 10200 lbs & under, 11200 lbs
& under, 12000 lbs & under, 13200 lbs & under, 14200 lbs & under, 15200 lbs & under, 20000 lbs &
under.
Max Two Classes per tractor.

Bleachers will be available for seating.
Rules and Regulations
All entries will pull from a manufacturer's standard draw bar hitch. If a ring hitch is used it must be attached to a standard draw bar; and not higher than 20 inches measured from the ground or scale pad.
All tractors must have the engine throttle controlled only by the manufacturer's original throttle linkage.
All operators are to remain seated during pull and follow the instructions of the track officials.
Farm stock tractors will have stock block and pistons, carburetor, or injection pump and other internal or external parts catalogue for make and model indicated only. If an entry is brought into question by another competitor, through the track officials, the onus is on the owner to prove the entry is indeed eligible for that class. If they are unwilling to prove their entry; they are automatically disqualified without recourse. (If tear down is requested, a $200.00 deposit is required from complainant. If the tractor in question is legal, the $200.00 is given to the owner of the
tractor. If the tractor is found to be illegal, the $200.00 is returned to the depositor.)
No alcohol or other racing fuels or pressurized fuels allowed unless manufactured L.P. gas tractor.
Evidence of alcohol and/or drugs in the operator is grounds for disqualification.
Stock classes – 7200, 9200,11200,13200,16200- 20000 lbs
Antique classes (Pre-1960) 1000-3000 lbs, 3000-4000, 4000-5000, 5000-6000, 6000-7000, 7000-8000, 80000-9000, 9000-10000.
All tires to be prescribed in manufacturers' literature for make and model.
Start from tight hitch – no test pull dropping in pail off. If sled is okay, 1st pull is only pull. 50-foot restart in pull off only applies if tractor stalls.
Any weights or parts falling from tractor while pulling will result in disqualification.
Competitors must be 16 years or older.
All tractors must weigh in immediately after pull.
Front end of tractor lifting more than 30 inches will be stopped by Judge.
The decision of the Track Judge is final. Debate could entail ejection.
Tractors that go out of bounds while pulling are automatically disqualified by the Track Official.
Only tractors manufactured before 1960 will be eligible to compete in the antique classes. Entries must meet original specifications. Performance enhancing or modification is not permitted

Tires: Stock sizes as from factory or disqualified.
Turbos: Only equipped from factory
Exhaust: Stock as from factory or straight
Hitch: As farm stock regulation.
R.P.M.: All gas tractors will not exceed manufactured rpm of 2200 rpm. All diesel tractors will not exceed manufactured
rpm of 2500 rpm. Engine: Stock block to match make of tractor. All other tractors that do not meet these requirements may not pull.
Technical judge's decision is final. Any harassment of the judge will be an automatic disqualification.